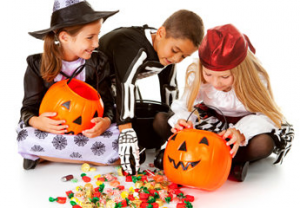 It's Halloween! Candies are plentiful and it's simply impossible to avoid the sweets for adults and the kids. It's only one night a year, so how much harm can one day of having candies do? Well, quite a bit actually, specially if you don't floss and brush your teeth by end of Halloween day. With this in mind, Dr. Edward Adourian, your Carlsbad dentist, and his team are providing timely tips on how to keep your, and your children's, teeth clean and healthy this Halloween and all throughout the coming holidays.
Enjoy the Treats in Moderation
At Carlsbad Dental Associates, our dentists encourage our patients and the parents of our young patients to allow themselves and their children to enjoy the sweet Halloween fest experience. For parents of our young patients, we suggest not to take your kid's bags of candies away as soon as you arrive home from the trick-or-treating visits around your neighborhood. Enjoy some of the treats moderately and let your children have fun enjoying the goodies they collected. Sit down with your kids and going through their sugary loot and help them choose the candies to eat. If you or your child have braces, avoid the hard candies and chewy candies. Choose soft chocolate candies because they melt easily and actually contains some nutritional values compared to other candies. Decide how many pieces you and your kids can have and let them choose which ones. Put the rest of the candies away, out of reach and out of sight. You can also decide with your kids to donate the extra candies to local charities.
Have the Candies After Meal
Save having the candies for directly after meals. Our mouth produces more saliva during and after mealtime, which helps balance out the acids and wash away bacteria and particles in our mouth.
Reinforce Oral Health Habit with Your Children
Get your child into tooth-cleaning routine in the morning and at night. The routine should involve flossing, brushing and children-safe fluoride rinse. Flossing removes the food debris caught between teeth, while brushing gets cleans the teeth surface. Fluoride rinse gets back in the mouth crevices and gums to ward off tooth decay.
Adapt Healthy Eating Habits for the Whole Family
Halloween is all fun and sweet and it's just the beginning of the holiday season of delightful treats. You should work to ensure your whole family eat nutritious, balanced meals all throughout the year. Stay active by exercising and playing with your kids. More importantly, regularly visit your dentist for general dentistry, cosmetic dentistry or preventative dentistry to help keep your teeth healthy and your smiles brighter!
Schedule a Post-Halloween Dental Cleaning
To schedule a dental cleaning for you and your children post-Halloween, please contact Carlsbad Dental Associates at (760) 918-9000 or visit our Contact Us page for more info or to send us an email. Carlsbad Dental Associates's dental office is conveniently located at 5814 Van Allen Way, Suite 220, Carlsbad, CA 92008.