Dentist in Carlsbad, CA
Dentist in Carlsbad – Edward Adourian, DDS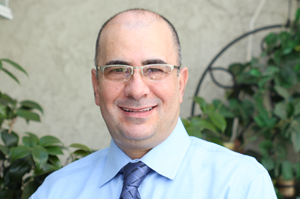 With over 20 years of experience in general and cosmetic dentistry, Dr. Edward Adourian is known for his exceptional skills in dental and cosmetic techniques and compassionate dental care in Carlsbad. He continues to improve his skills and keeps himself abreast with the latest and safest dental procedures with continuous training and education. Dr. Adourian and his team at Carlsbad Dental Associates remains at the forefront of dentistry and are always looking for ways to deliver better and more comfortable dental care.
Dr. Adourian offers one-of-a-kind experience for patients looking to transform their smiles using minimally invasive dental techniques and innovative technologies such as CEREC 3-D technology to create same-day porcelain crowns and sedation dentistry for a more relaxing dental experience for anxious patients.
Before establishing his dental practice in Carlsbad, Dr. Adourian was practicing in Boston, where he also collaborated with with renowned dental technician Yasu Kawabe in creating Hollywood smile.
Patient-Centered Approach to Dentistry
Dr. Adourian is best known for his professional, personalized and caring approach with his patients. He listens carefully and gets each patient involved in their own customized treatment plan. He develops painless smile makeover that fits a patient's unique facial bone structure and personality, making sure that oral health and overall well-being are not compromised with cosmetic work.
General and Cosmetic Dentistry Specialties
Professional Memberships and Affiliations
American Dental Association
American Academy of Cosmetic Dentistry
California Dental Association
American Academy of Implant Dentistry
Academy of General Dentistry
San Diego Dental Society
About Carlsbad Dental Associates
At Carlsbad Dental Associates, you can relax in a spa-like environment while Dr. Adourian and his team work on restoring your healthy and beautiful smile using a combination of dental skills and advanced dental tools and technology. Each operatory is fitted with ergonomic chairs and flat screen for entertainment and put you at ease. Whether you're looking for a complete smile makeover or simply brighten your smile, visit our Carlsbad dental clinic for safe, affordable, relaxing and effective dental treatments.
Your Family Deserves the Best Dentist in Carlsbad
Schedule a consultation with Dr. Adourian, one of the best dentist in Carlsbad, by calling (760) 918-9000 today or filling out the form here »