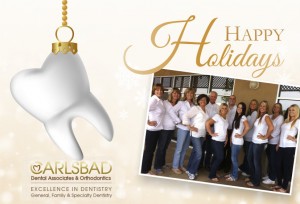 Having a dental emergency during the holiday season is possibly the worst time of the year to suffer and deal with painful toothache, tooth decay, broken tooth or dentures, etc. These can keep you from partaking in the traditional holiday meals and enjoying the holiday season with family and friends. Holiday season can be stressful and overwhelming that a lot of people tend to forego or miss dental appointments. To avoid dental emergencies and ensure you enjoy the holidays, our dentists at Carlsbad Dental Associates in Carlsbad, CA has put together this Holiday dental dos and don'ts so you can enjoy this delightfully sweet season with a healthy grin!
Don't Eat Too Much Sweets
The holiday season brings so much joy and sugar, such as candy canes, caramel popcorn, and pies and more. Unfortunately, these yummy sweet treats can wreak havoc on your teeth, according to Edward Adourian, DDS, an experienced Carlsbad dentist and founder of the Carlsbad Dental Associates in Carlsbad, CA.
"We're not saying don't touch the sweets, just minimize your intake," says Dr. Adourian. "Having less sweets means less exposure for your teeth to sugar."
Don't Miss Your Dental Routine
All the shopping and feast frenzy can throw all your plans, schedule and routines off track. No matter how busy it can get, make sure that  you and your family find the time to at least stick to your daily routine of brushing your teeth twice a day. Even better if you can squeeze in extra time for extra brushing , flossing and rinsing because of all the extra special meals and treats that leave particles between the teeth and under the gumlines.
Don't Delay Dental Treatments
If you break a filling, tooth or dentures, don't wait long to see your dentist to have them fixed. Even during holidays, some dentists are on call and ready to see patients for immediate dental care. If you're out of town, call a local dentist for emergency dental care.
Do Pack Travel-Size Dental Kit
With all the trips to your family members and friends for gift-giving and holiday meal partaking, a pack of travel size toothbrush, floss and mouthwash can come handy.
Do Schedule Your Post-Holiday Dental Visits
There is no better time than now to schedule your post-holiday dental visits for routine professional dental check-ups or cleaning and other dental services, such as general dentistry, cosmetic dentistry or preventative dentistry, you may require to keep or restore your healthy and bright smile for years to come.
Schedule a Visit to Your Carlsbad Dentist
To schedule a dental visit for you and your family, please contact Carlsbad Dental Associates at (760) 918-9000 or visit our Contact Us page for more info or to send us an email. Carlsbad Dental Associates's dental office is conveniently located at 5814 Van Allen Way, Suite 220, Carlsbad, CA 92008.