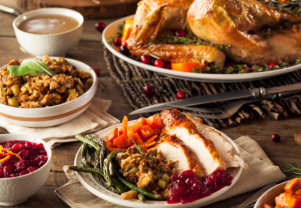 Thanksgiving is the best time of the year to catch up with family and friends, while feasting on roasted turkey and all the trimmings, and give thanks for all the blessings. It also happens to be the best time to look after your teeth and make sure you wear that beautiful smile all throughout the coming holidays. Our dentists at Carlsbad Dental Associates has put together this Thanksgiving dental tips so you can enjoy this holiday and be grateful for the healthy teeth and beautiful smile you have!
Eat Carefully and Slowly
When chomping on the meaty turkey breast, it's easy to forget that turkeys do have bones. Eat slowly and avoid biting hard on the food to avoid breaking your teeth, dentures or fillings. If you just had your dentures or dental fillings done, limit your intake of sticky or chewy food. You don't want to miss out on all the fun with a trip to your dentist in Carlsbad for a dental emergency.
Drink Water Between Meals
Wash off all the food particles stuck between your teeth and under the gum lines with water. Drinking water also helps clean all the traces sugar and acid from fruit juices and carbonated. Drinking water also regulates your saliva flow, preventing plaque build-up and tooth decay.
Floss, Brush and Rinse
Whether you're at home during Thanksgiving or visiting families and friends, make sure to floss, brush ans rinse between meals. Throw in your bag a travel-size toiletries with pocket size toothpaste, toothbrush, floss and mouthwash. Excuse yourself after the meals and head to the restroom for a quick flossing, brushing and rinsing.
Chew on a Sugar-Free Gum
Chewing on a sugar-free gum after a meal helps rid your mouth of food particles stuck between your teeth and under the gum line. It also helps maintain your saliva flow, which is known to aid in the digestion of food.
Schedule a Post-Thanksgiving Dental Cleaning
Schedule a quick dental visit at Carlsbad Dental Associates for a professional dental cleaning, check up or other dental services, such as general dentistry, cosmetic dentistry or preventative dentistry to help prevent any dental issues from developing or worsening and will ensure you maintain healthy teeth and beautiful smile all throughout the coming holidays.
Call Carlsbad Dental Associates for Dental Emergencies
If in the midst of the Thanksgiving eating frenzy your teeth, fillings or dentures break and you are in pain, call us immediately at (714) 505-9462 so we can schedule your dental appointment immediately.
Following these simple dental care tips, you can keep your teeth and gums healthy while enjoying the Thanksgiving meals. Happy Thanksgiving!
Schedule a Post-Thanksgiving Dental Cleaning Today!
To schedule a dental visit for you and your family post-Thanksgiving, please contact Carlsbad Dental Associates at (760) 918-9000 or visit our Contact Us page for more info or to send us an email. Carlsbad Dental Associates's dental office is conveniently located at 5814 Van Allen Way, Suite 220, Carlsbad, CA 92008.