Dental Crowns in San Marcos, CA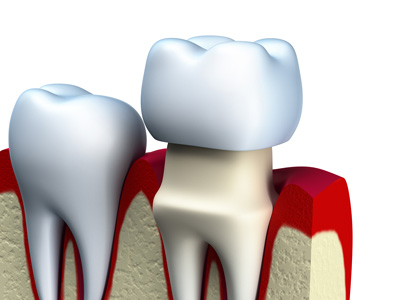 A dental crown consists of a tooth-shaped cover placed over a tooth and secured with dental cement. Patients want them to improve the strength or appearance of a tooth. Before the crown is fabricated, impressions are usually taken of the patients' teeth. Most crowns are created from Gold or Porcelain.
Porcelain crowns are preferable for patients due to their more appealing, natural appearance. Gold crowns are generally used on the back teeth and they require less removal of the natural teeth. In addition, they are easier to apply than porcelain. When it comes to protecting broken, worn down teeth, crowns are a recommended choice for patients. They can also be applied to cover dental implants, dental bridges, or tooth with a large filling.
When there are multiple missing teeth, patients may prefer to have dental bridges. These consist of multiple crowns anchored to existing, adjacent teeth. They are created from porcelain, metal, or ceramic material. After being fitted, bridges can help prevent tooth gaps from damaging teeth.
To schedule an appointment for dental crowns in San Marcos, call Carlsbad Dental Associates & Orthodontics today.